Running out of ideas on what to ask for Christmas this holiday season? Or maybe you don't know what to get your best friend who is a comic book enthusiast but has everything. Well the Fight for Comics Holiday Gift Guide Graphic Novels is here to help. Here is a gift guide comprised of the latest original graphic novels that have been released within the last six months. All are self contained stories come with the Wednesday Warriors highest recommendation.
Habibi
Writer: Craig Thompson
Artist: Craig Thompson
Publisher: Pantheon
Price: $39.99
Format: Hardcover
Pages: 672
Craig Thompson's new masterpiece is a moving tale about two orphaned refugees struggling to survive in the Middle East. This graphic novel is moving, thought provoking and every bit a worthy successor to Thompson's Blankets, (which is also available now in an all-new hardcover edition for those that have not read that essential graphic novel yet).
Rust: Visitor in the Field
Writer: Royden Lepp
Artist: Royden Lepp
Publisher: Archaia Entertainment
Price: $24.95
Format: Hardcover
Pages: 192
One of the best graphic novel debuts this year from new writer/artist, Royden Lepp. Lepp delivers a thrilling story about how one farmers life is changed when a robot from a distant war crashes into his barn. Part Rocketeer and part Iron Giant, this is a book that will have readers talking about it in years to come. Jump on the bandwagon now so you can say you were there first.
Infinite Kung-Fu
Writer: Kagan McLeod
Artist: Kagan McLeod
Publisher: Top Shelp Productions
Price: $24.95
Format: Paperback
Pages: 464
No other graphic novel put a bigger smile on my face this year than McLeod's Infinite Kung Fu. Get ready for flying fists and martial arts action as Lei Kung goes on a quest to fight those who have been poisoned with poison Kung Fu. Supernatural elements and zombies are also thrown into the mix to crank this book's fun level up to eleven. And for those that have still not seen the amazing Infinite Kung Fu trailer, check it out here.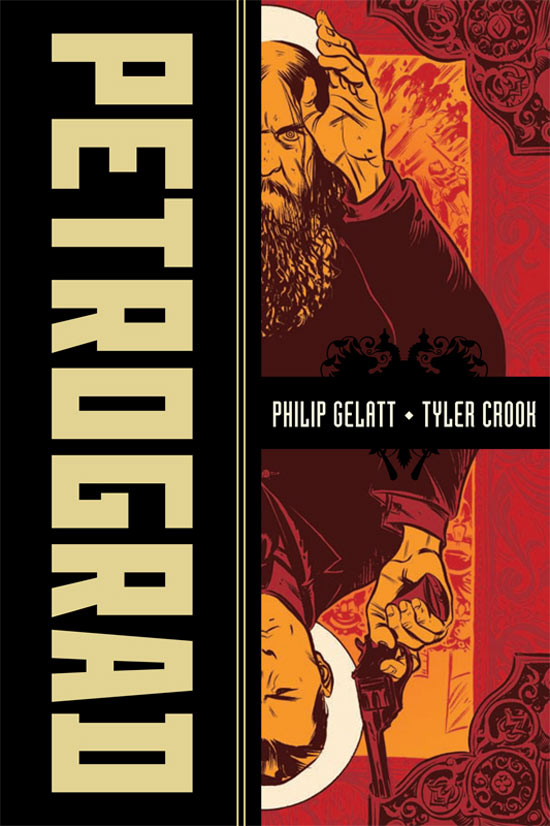 Petrograd
Writer: Philip Gelatt
Artist: Tyler Crook
Publisher: Oni Press
Price: $29.99
Format: Hardcover
Pages: 264
This is well-researched historical fiction about the international conspiracy behind the murder of Gregorii Rasputin. But what makes this a must read is perfectly executed Gelatt and Crook are able to recreate an amazing story that surrounds the real events. Plus it satisfies an itch in the international spy genre that no book has been able to satisfy since Queen & Country ended.
Batman: Noël
Writer: Lee Bermejo
Artist: Lee Bermejo
Publisher: DC Comics
Price: $22.99
Format: Hardcover
Pages: 112
Batman finds himself being confronted by villains from the past, present, and future in this fun retooling of A Christmas Carol. Usually Marvel and DC only put out a 64 page Holiday Special that is usually only short stories. Hats off to DC for getting such a high profile like Lee Bermejo to give us a tale that I am sure will start becoming a regular must-read every holiday season, (right behind Lobo's Paramilitary Christmas Special).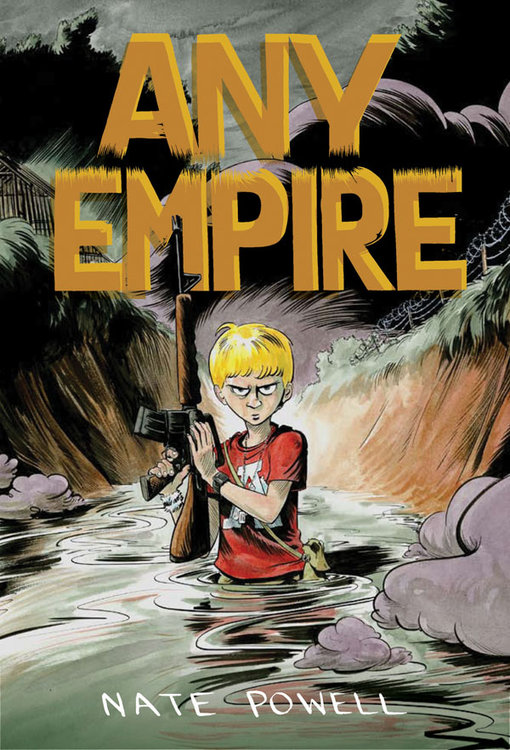 Any Empire
Writer: Nate Powell
Artist: Nate Powell
Publisher: Top Shelf Productions
Price: $19.95
Format: Hardcover
Pages: 304
This is the follow-up graphic novel to the Eisner award winning Swallow Me Whole. This coming of age story follows three childhood friends and how violence redefines their friendship once they meet each other again as adults. Thought provoking and beautifully told, Any Empire is a tremendous achievement from Nate Powell.
One Soul
Writer: Ray Fawkes
Artist: Ray Fawkes
Publisher: Oni Press
Price: $24.99
Format: Hardcover
Pages: 176
Every once in a while a comic breaks new ground and pushes the envelope to really stretch and showcase just what the medium is capable of. One Sould is just such a book. Ray Fawkes writes 18 different people's journey from birth to death all in a two page spread divided up into 18-panel grid. All of these characters never live outside their own panel and they do not even live in the same time period as the rest of the characters but readers will be moved to find out just how similar everyone's life really is. Every bit as poetic as a Terrence Malick film, One Soul is fine art at its best.
Jim Henson's Tale of Sand
Writer: Jim Henson and Jerry Juhl
Artist: Ramón Pérez
Publisher: Archaia Entertainment
Price: $29.95
Format: Hardcover
Pages: 152
An unproduced screenplay that Jim Henson never had a chance to make before he died gets adapted to comic form. It stars Mac who wakes up in an unfamiliar town, and is chased across the desert of the American Southwest by all manners of man and beast of unimaginable proportions.
Bad Island
Writer: Doug Tennapel
Artist: Doug Tennapel
Publisher: Graphix
Price: $10.99
Format: Paperback
Price: $24.99
Format: Hardcover
Pages: 224
I wish every creator seemed to be having as much fun as Doug Tennapel seems to have with all his stories. The Earthworm Jim creator's second color graphic novel from Graphix follows a family who gets shipwrecked on a mysterious island. Crazy things happen as they slowly begin to solve the mysteries or the Island. Sound familiar? The Lost comparisons seem unavoidable but where Lost left most fans confused and angry, Bad Island will have readers of all-ages satisfied and loving every minute of it.
Anya's Ghost
Writer: Vera Brosgol
Artist: Vera Brosgal
Publisher: First Second
Price: $15.99
Format: Paperback
Price: $19.99
Format: Hardcover
Pages: 224
Anya's Ghost marks another stunning debut from an emerging writer/artist in the comic field. Vera Brosgol delivers a delightful tale about a young girl named Anya who befriends a ghost her same age after she falls down a well. Could this be her new BFF or does the ghost having something else in mind? Find out what happens in the book that Neil Gaiman has declared, "A masterpiece."
Hellboy: House of the Dead
Writer: Mike Mignola
Artist: Richard Corben
Publisher: Dark Horse Comics
Price: $14.99
Format: Hardcover
Pages: 56
Here is something we have never had before. An all-original Hellboy graphic novel by Mike Mignola and Richard Corben. While some may balk at its 56 page count and argue it is just a two issue story put out under the guise of a graphic novel, it still doesn't change how awesome of a story it is. We find Hellboy in a Mexican bar where he is recruited to step into the ring for a wrestling match with a Frankenstein monster. Fun from start to finish.
MetaMaus: A Look Inside a Modern Classic, Maus
Writer: Art Spiegelman
Artist: Art Spiegelman
Publisher: Pantheon
Price: $35.00
Format: Hardcover (plus bonus DVD-R)
Pages: 300
In MetaMouse, Art Speigelman takes a look back at his Pulitzer Prize winning graphic novel, Maus. Everything is covered here, from personal and in-depth interviews to early sketches. Plus it has a DVD-R that references even more Maus material. This is the perfect chance to go back and revisit a classic. And for those that have yet to eve read Maus, it has just been released in a stunning new anniversary hardcover that matches MetaMouse in design.
- Sean Leslie